Advice and answers from the Digital Joy Team
What is Digital Joy?
What products do we offer?
Can I try Digital Joy products for free?
How do I contact support?
How can I cancel my account?
Where can I get more information regarding Digital Joy Privacy Policy?
Do you have discounts for non-profit organizations
Account


How can I register & subscribe?
Can I change the email address of my account?
What if I forgot my password?

Subscription


I purchased a plan. When does it expire?
Will I get a receipt for this purchase?
How can I upgrade my Digital Joy subscription plan?
What happens if I run out of responses?
What countries does Digital Joy support?
Can I try Digital Joy Engage before I buy it?
How to set up my account in Digital Joy? (Quick overview)
What is a response?
What does the number of responses indicate?
How many responses/votes do I get as part of the Free plan?
Do you count duplicate votes as responses?
Polling Fundamentals


How do I create a poll in Digital Joy Engage?
How many polls can I create while my plan is active?
What kind of questions can I create with Digital Joy Engage?
What is an active poll?
What purpose does the "Activate" button serve on the Polls page?
Can two polls be active at the same time?
How do I delete a poll?
How do I add more questions or polls?
Can I create polls without launching them?
How can I display/share the results of my poll?
Can I edit my poll after creating it?
Can I schedule a poll?
How do I reschedule a poll?
Do you support word clouds?
How can I enable only one medium of voting?
How do I clear poll results?
Types of embed scripts and how to use them
What happens on the web polling widget when I don't have any active polls?
Can I copy an existing poll?
How do I switch between my polls on the Present screen?
How fast do votes show up?
Can I create a poll with more than two options?
How will my audience know how to vote?
How do I reset a poll?
How to choose a WEB polling template and a background
How can I moderate questions and comments for open-ended entries?
How do I create an open-ended question?
How do I create a word cloud?
Can I have more than one question active at a time?
What are the word cloud settings available to me?
How do I introduce Digital Joy Engage to my audience?
Poll Wizard – Can I create a poll with more than two options?
What languages does Digital Joy support?
Can I export and download the results of my poll from the dashboard?
How long will the event code be available for my account?

Polling Settings


How can I send my poll to live broadcast?
How to show the correct option in the WEB widget?
How do I select a different background for my web template?
What are the templates shown in the Select Template section of the Web voting?

Voting


How can I enable multiple channels of voting?
How do I share my poll with my audience?
What is an event code?
How do I embed a poll into a web page?
How do participants join my event?
Can I post my poll to Twitter?
Can my users respond to the same question multiple times?
How do people vote, respond, or otherwise send in comments or questions?
How do I vote online?
Do you support online (web) polling?
Which internet browsers do you recommend the most?
Should I present using Chrome or as an embed within my PowerPoint slides?

SMS VOTNG


Do you support SMS voting?
Will the SMS number be dedicated for my event?
What happens if there is a typo in a text message?
Which country phone numbers do you support?
How should my audience text-in to vote?
Can I change the phone number of my account after registration?
SMS voting isn't working. What is happening?
Will the phone number I have be shared with anyone else?
I cannot find my phone number
Will my participants ever receive spam or unwanted text messages after they vote?
What countries does Digital Joy support for text polling?

Polling Results


Can I analyze the polling report in Excel?
What analytics are available for my questions in the dashboard?
How to hide/show the live results of the poll in the polling widget?
What will exported data look like?
How do I display questions?
How do I add Digital Joy Engage to my PowerPoint slides?
How can I zoom in within the Presentation Mode?
What is the Presentation Page for?
How do I change the theme of the Presentation Mode?
Can I add a logo on the presentation display header?
How to make the Presentation Mode full-screen?
Is Digital Joy integrated with Keynote?

Audience Q&A


What is the Audience Q&A I see on my dashboard?
Can my audience send questions during my presentation?
Can people upvote questions?
What are approved questions?
Do you support sending anonymous questions?
What are archived questions?

Poll Groups


How can I create an engagement using the Poll Groups?
Can I add an opt-in checkbox on the login/registration page?
Getting Started

What is Digital Joy Chat?
Setting up your Digital Joy Chat account
The Digital Joy Chat admin dashboard
How do I create a chat channel?
Can I customize the look of my online chat?
How can I add & update my chat users?
Can I embed Digital Joy Chat into my website?
Can I make my chat private?

Digital Joy Chat Widget 

How can I view & share my chat page?
General product information
Learn how to register an account with us
To create an account go to digitaljoy.com and click "SIGNUP".
You can also sign up by visiting the links below for:

You will be taken to the registration page.
To register with Digital Joy, you need to provide a full name, a valid email address, and a strong password.
If you decided to subscribe for a paid plan, simply click on the Billing option after logging in and choose your preferred plan:

You can not change the email address of your account after registration.
However, if, for some reason, you need to replace it with a different email address, please contact us at support@digitaljoy.media
Learn how to reset or change your password in case you lost or forgot it.
If you have lost your password you can reset it by clicking the "Forgot password?" link on the login page and following the instructions.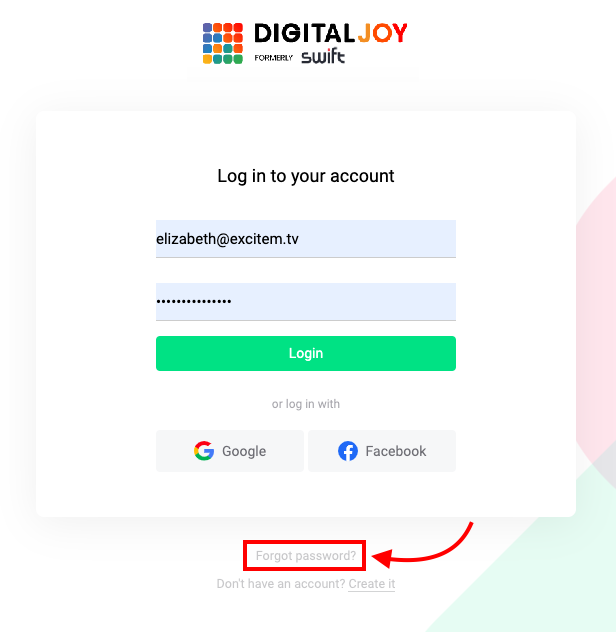 When you click "Forgot password?" you will be redirected to a page asking for your email address. When you type it, Digital Joy will send you an email with a password reset link. Follow that link to set a new password for your account.
To share your poll group. click on the Poll Groups button to view the list.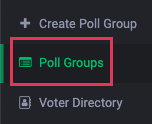 If your Poll Groups is not running, click on the All tab and find it in the list

Then click on Play button to run it


Next click on the Present button to open the Poll Groups page. 


Copy the page URL and forward it to your participants
The second way to share your Poll Group is using QR code.
On the Poll Group list page click on the vertical ellipsis button and then select 'Download QR Code'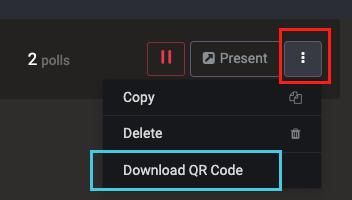 Then click on the 'Download QR Code' button.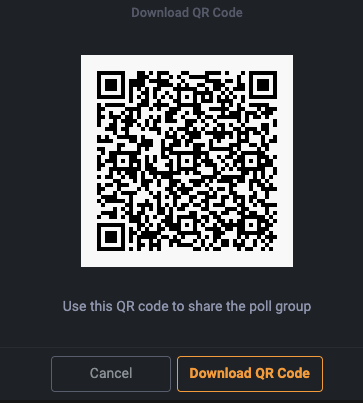 You can then share the QR code with your participants for them scan and go to your Poll Groups page
Whether you live in a region or country that mandates having an opt-in/opt-out for marketing or you want to give your audience the option, adding a checkbox is easy to do.
Create or edit a Poll Group
Click on Advance Settings at the bottom right of the screen

Go to Opt-in checkbox option and toggle it on

A textbox will appear below it. Fill in the message you would like your audience will see.  

Save the Poll Group & launch it. It will appear on both the login and registration page.

Login page

Registration page




To obtain the list of participants that opted-in by checking the checkbox, go to the Voter Directory page and click on the Voters CSV button to export the file.

Fill in the email address to where the file is sent and click on Export.
If the list is long, it may take a while for the file to be sent to the destination email address.


When the email arrives, open the CSV file on a spreadsheet app (e.g Microsoft Excel). The opt-in data is under the Opt-In column.